November 2, 2017 – February 7, 2018
Recent Milwaukee Institute of Art and Design (MIAD) alumnae Ariana Vaeth and Caitlyn Doran are two up-and-coming painters to watch. Vaeth explores the melodrama of everyday life with paintings that are an autobiographical look at her own transition into adulthood. Doran's paintings of everyday moments exude a dreaminess or contemplative mood. Her unique visual narratives are open to interpretation and provide the viewer with an opportunity for storytelling.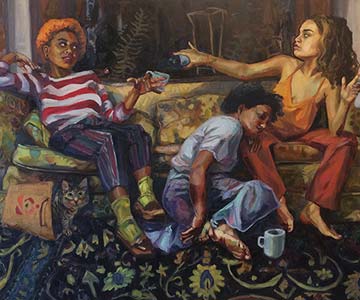 Meet the Artists
Opening Party: Thurs., November 2, 5:30 p.m.
Artist Talk: Thurs., November 2, 7:00 p.m.
Saint John's On The Lake
1800 N. Prospect Avenue, Milwaukee, WI 53202
Open and free to the public every day, 10:00 a.m. – 5:00 p.m.