Villa Terrace Decorative Arts Museum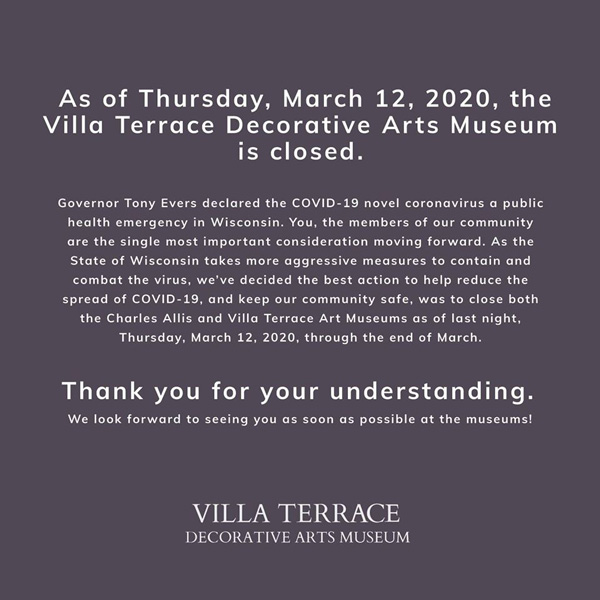 Overlooking Lake Michigan, this Italian Renaissance-style villa was designed by architect David Adler in 1923. Originally the residence of Lloyd Smith of the A.O. Smith Corporation and his family, the Museum features fine and decorative arts dating from the 15th through the 18th centuries, wrought-iron masterpieces by Cyril Colnik, and a formal garden and changing exhibitions by local, regional, and international artists.
Museum Public Hours
Wednesday, Friday, Sunday 10:00 a.m. to 5:00 p.m.
Thursday 10:00 a.m. to 8:00 p.m.
Saturday 1:00 p.m. to 5:00 p.m.
Holiday Hours – Closed
Thanksgiving – November 26
Christmas Eve – December 24
Christmas Day – December 25
New Year's Eve – December 31
New Year's Day – January 1
Admission Prices
$7 Adults
$5 Seniors (62+), Military and students
Free for Members and children 12 and under
Self-guided tour maps are included with price of admission
Ariana Huggett: House Tableau
October 17, 2019 – January 26, 2020
Alongside Jeff Clancey, our 2018/19 artist-in-residence, Ariana Huggett, will conclude her residency with House Tableau, an exhibit of a series of paintings depicting carefully composed views of the historic rooms at both the Charles Allis and Villa Terrace.
Jeffrey Clancy: Measured Misalignments
October 17, 2019 – January 26, 2020
Developing the story of the Smith Family at the Villa Terrace is one of our primary curatorial goals at the museum. UW-Madison professor of Art in Metalsmithing and Jewelry, Jeffrey Clancy, delves into this effort by examining the Villa Terrace – both objectively and anecdotally – by re-telling its stories in a way that combines facts with the artist's idiosyncratic observations and imagined likely possibilities.
Stay connected. Sign up for our museum newsletters.