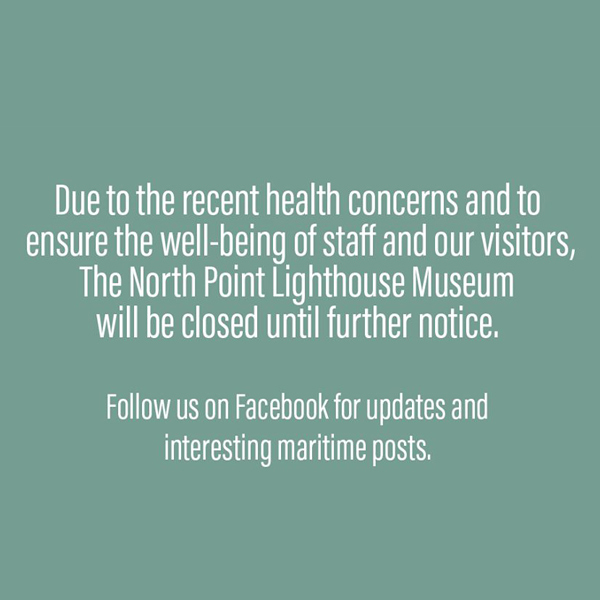 North Point Lighthouse is a beautifully restored 1888 landmark museum and event destination that Frederick Law Olmsted used as the crown jewel when he designed Lake Park in 1893. Climb the 74-ft tower for spectacular views of our lake front and downtown Milwaukee. The Queen Anne Keeper's Quarters offers insights into Wisconsin's maritime history through nautical artifacts and keepers' stories, particularly a woman who saved lives while keeping this light for 30 years.
Extended Summer Hours:
Thursday–Friday: 10:00 a.m.–2:00 p.m.
June 20 through August 30, 2019
Saturday–Sunday: 1:00 p.m.-4:00 p.m.
Open throughout the year
Admission Prices
$8 for Adults
$5 for adults age 65+ with ID
$5 for children age 5-11
No charge for children age 4 and under
Private Tours on a Weekday
Private and education tours by appointment.
$10/person, but a minimum of 10 people or $100 minimum per group, whichever is greater.
Climbing the Tower
Must be at least 5 years old and at least 38 inches tall to climb the tower
Upcoming Lectures At The Lighthouse: A monthly series of talks by prominent historians, authors, and scholars:
---
JAN 8
John Eastberg
Historian | Pabst Mansion
Captain Frederick Pabst. Beyond the Brewhouse
Captain Frederick Pabst is widely known as one of Milwaukee's great beer barons, but this legendary character had many other interests than only brewing beer. Pabst Mansion historian, John C. Eastberg will lead you through the extraordinary life of Captain Pabst, starting with his days as a cabin boy on a Great Lakes steamer to eventually working his way up to Captain by his early twenties. Following his success as a brewer, Pabst was able to explore his interests in horse breeding, art collecting and serving as a civic leader, promoting Milwaukee as the German Athens of the West. The lecture will include dozens of rare photos illustrating the many fascinating facets of Captain Pabst beyond the brewhouse.
FEB 12
Steve Schaffer
Assistant Archivist | Milwaukee County Historical Society
Milwaukee's Three Founders
Milwaukee County Historical Society Librarian Steve Schaffer will give a talk on the individual backgrounds, goals and achievements of three very different people who contributed to the success of their landscape divided by the rivers. Settlement was competitive, the local ingredients of woodlands, potential farmland, and new business opportunities created a thriving metropolis which celebrated its 200th anniversary in 2018.
MARCH 11
Eric Gietzen, Eric Berg
The Legacy of Tom Blake – From Milwaukee to influential surfer, inventor, photographer.
Tom Blake was born in Milwaukee but went on to become a leading figure in the international surfing world. He invented water safety equipment and photography equipment for underwater pictures, and, his personal style defined what we still admire as the "surfer type".
Become a member of North Point Lighthouse and experience the journey that connects you to this iconic historic landmark. North Point Lighthouse membership provides you with exclusive member-only benefits, while also offering you the opportunity to financially support one of Milwaukee's antique treasures. North Point Lighthouse members are not just donors, but champion supporters of our community.