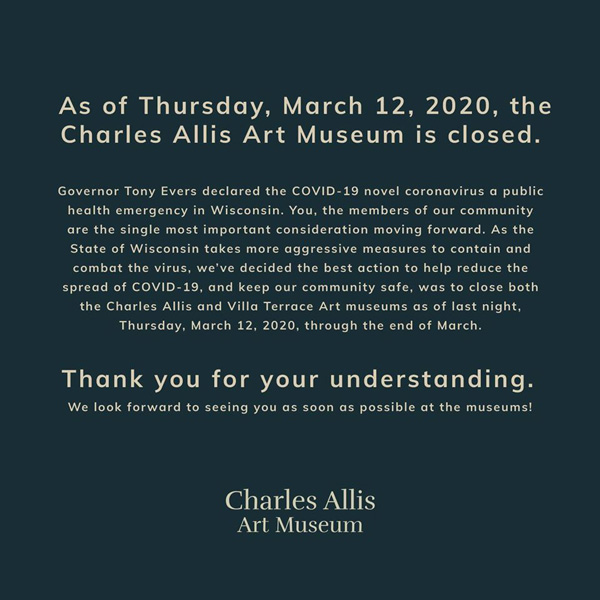 Designed by prominent Milwaukee architect, Alexander Eschweiler, and on the National Register of Historic Places, the lavish 1911 Tudor style home of Charles and Sarah Allis contains a world-class art collection that spans more than 2,000 years and includes impressive Classic antiquities, Renaissance bronzes, Asian ceramics, French Barbizon paintings and stunning decorative arts. Changing exhibitions feature local and regional artists, making the museum a vibrant center for Wisconsin arts not to be missed.
Location
1801 North Prospect Avenue
Milwaukee, WI 53202
Get Directions
Museum Public Hours
Wednesday, Friday through Sunday 10:00 a.m. to 5:00 p.m.
Thursday 10:00 a.m. to 8:00 p.m.
(Closed Easter, Thanksgiving, and Christmas Day)
Admission Prices
$7.00 Adults / $5.00 Students and Seniors
Children 12 and under – Free
Museum Members – Free
Museum Memberships start at $45
Delight, Inspire, Educate: The Allis Collection as Catalyst
May 12, 2019 – April 12, 2020
See various aspects of the Allis art collection, from paintings and sculptures to decorative arts objects and print materials. In our Foyer Gallery, we consider the act of collecting today and how the objects we live with can inspire creative connections and passions in our lives.
Stay connected. Sign up for our museum newsletters.